Audio version: Download MP3 or use controls below:
Your browser does not support the audio element.
By Finn J.D. John
May 19, 2019
EVERY NOW AND then, one runs across a man who can sweet-talk absolutely anyone into anything.
Such a man was William "Diamond Bill" Barrett Jr., the black sheep of a solid, respectable family of Hillsboro pioneers.
As a character, Diamond Bill was like a 20th century version of George Wickham, the rakish Army officer in Jane Austen's novel Pride and Prejudice. Like Mr. Wickham, Diamond Bill was a dashing, handsome military man with a particular talent for persuading the daughters of wealthy families to elope with him.
Call him, if you will, "The Heiress Whisperer."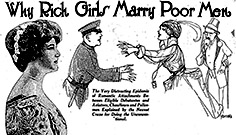 AS A TEENAGER growing up in Washington County in the first decade of the 1900s, Diamond Bill seems to have been a real handful for his father, state Senator William Barrett Sr. He was, in the vernacular of the day, a "fast young man" — a high roller and a big spender with a habit of running up hefty gambling debts that he lacked the wherewithal to pay; and, in the interest of avoiding scandal, his father would scurry around after him squaring his accounts afterward.
Perhaps hoping that a military education would straighten him out, William Sr. sent the young rake off to the U.S. Naval Academy at Annapolis, and he did well there, graduating and taking a post as a midshipman. But very shortly thereafter, he and the Navy parted ways — most likely as a result of a 1911 incident in San Francisco that clearly didn't rise to the Navy's famous "officer and a gentleman" standard. This was the incident that earned him the moniker "Diamond Bill":
Ashore in San Francisco, Bill visited a jewelry store and, pretending to be a wealthy swell and turning on that legendary Diamond Bill charm, actually talked the proprietor into letting him borrow a $2,000 diamond ring (worth about $55,000 in 2019 money) to take home and "see if my wife likes it."
He then headed for a pawnshop, hocked the ring for $1,500, returned to the jewelry store, and arranged to pay for the diamond over four months with $500 monthly payments. He then made his first month's payment, and left with $1,000 in clear cash money.
He then started to work the same play on a second jewelry store, but by the time he did, the police had noticed the unusually large $1,500 pawnshop payment, and Diamond Bill was collared by a bluecoat and parked in the city joint on suspicion of being a diamond thief.
The cops assumed it was his intention to run, leaving the jeweler holding the bag for the $1,500 balance owed on the hocked ring; but it's far more likely that the target of Bill's swindle was his father, who he must have expected to make good on his debt as he always did. Otherwise, he wouldn't have used his real name.
The judge threw the case out of court, observing acidly that no crime had been committed: Bill had bought the diamonds on credit, but he wasn't behind on payments and he was perfectly within his rights to pawn his property if he wished. Senator Barrett hastily covered the debts, and the matter was forgotten, except that from that day forward, the young Mr. Barrett was saddled with the flashy nickname "Diamond Bill."

DIAMOND BILL'S NEXT big score came three years later, in 1914, when he wangled an introduction to Miss Kathleen Baillie of Tacoma, the daughter of one of the richest men in Washington State. Following a whirlwind romance, the couple eloped, married, and moved to New York.
It's not clear what happened with Diamond Bill's marriage to Kathleen, but something obviously did, because in roughly one year it was over, and Kathleen was suing for divorce.
Shortly thereafter, the Great War broke out, and Diamond Bill, instinctively identifying the Army Air Corps as the most dashing and romantic arm of the service, wangled his way into it. He served in France with sufficient distinction to be promoted to the rank of Captain, and at the war's end he was proudly calling himself Captain Bill — not quite as colorful as Diamond Bill, but decidedly more respectable.
It was as Captain Bill Barrett that he then, in 1919, managed to work his way into the good graces of Miss Alice Drexel — heiress to the John Drexel fortune, one of the biggest in New York.

IN KEEPING WITH our Pride and Prejudice analogy, Alice apparently had as much in common with Lydia Bennett as Captain Bill did with Mr. Wickham. She seems to have been a bit boy-crazy, and had four ardent suitors, of whom Captain Bill was one; and her mother, fearful that things would get too serious, was hastily arranging for a family trip to Europe. Before that could happen, Captain Bill convinced Alice to elope with him. They slipped away by night in an automobile to New Rochelle, got married in a little church, checked into a posh hotel on Fifth Avenue — and then Alice called her mother.
The conversation did not go well. The young couple was summoned to the family manse to continue the discussion; there, the conversation went even worse. The upshot was that the newlyweds headed off across the ocean for a tour of Europe without any financial support from the Drexels … and Diamond Bill found himself having to try to maintain an heiress in the condition to which she was accustomed, on an Air Force captain's salary.
They bounced around a bit in three-star hotels and railroad apartments, and one imagines Alice getting more and more disillusioned with the whole affair. Then finally, one day, Diamond Bill just bounced. He vanished from their room, leaving her flat broke and pregnant to boot, and hustled home to America.
It would be a while before Alice learned why he left when he did. It had to do with her friend, Sydia "Sidi" Wirt Spreckels, dashing show-girl wife of a San Francisco sugar magnate's son. Bill had run into Sidi in London, to which city he'd traveled for some business reason, leaving his new wife in their shabby digs in France; he and Sidi were already acquaintances from the old days when he'd been a man-about-town in San Francisco and she'd been a Vaudeville star there.

[EDITOR'S NOTE: In "reader view" some phone browsers truncate the story here, algorithmically "assuming" that the second column is advertising. (Most browsers do not recognize this page as mobile-device-friendly; it is designed to be browsed on any device without reflowing, by taking advantage of the "double-tap-to-zoom" function.) If the story ends here on your device, you may have to exit "reader view" (sometimes labeled "Make This Page Mobile Friendly Mode") to continue reading. We apologize for the inconvenience.]