Audio version: Download MP3 or use controls below:
Your browser does not support the audio element.
By Finn J.D. John
April 20, 2014
ON DECEMBER 7, 1934, Ben Votruba left his room at the Bridge Hotel, a run-down flophouse in the 300 block of East Burnside in Portland, and made his way across the bridge to a corner drugstore on the west side.
Ben was, essentially, a washed-up alcoholic. Although still relatively young in years — he was 46 — those years had seen some hard living. His long-term drinking problem had taken him to rock bottom and instead of bouncing back, he'd stuck there, doing whatever he had to do to get by, day by day, drink by drink.
But it would be wrong to say he was obscure. The Portland Police Department knew him well. So did the municipal judge and clerks, who had seen him come before the bench on vagrancy and petty theft charges many times. They called him "the Canned Heat King."

Drinking stove fuel
CANNED HEAT — SOMETIMES referred to by its brand name, Sterno — was, and still is, a small can full of jellied denatured alcohol. The idea is, you open the can and light it on fire, and it burns with a clean blue flame that you can cook over.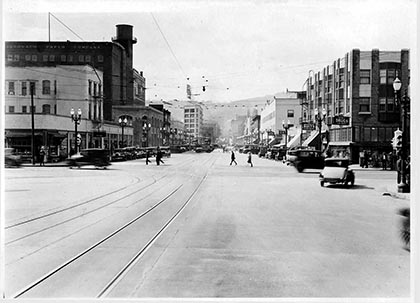 Many hobos used canned heat to cook with. They used it for something else, too. If you took the pink gelatinous blob out of the can, wrapped it in a handkerchief and squeezed, you'd get a few ounces of liquid alcohol, and you could actually drink it. It might make you a little nauseous, and it would taste like burning Napalm, but it wouldn't kill you — and boy howdy, at roughly 190 proof, would it ever get you drunk.
Since he couldn't afford to drink anything better, fresh-squeezed canned heat was Ben Votruba's usual drink. And he went through rather a lot of it.
The Canned Heat King's rap sheet was probably some kind of record — he'd been hauled before the court more than 80 times. It was mostly for petty drunkenness-related offenses, although there was that one spectacular incident 14 years earlier in which he'd T-boned the Portland fire chief's car while the chief was hurrying to the scene of a structure fire. They'd found three or four bottles of wine in his car afterward. That was back when Ben was young and strong — back when he could afford to drive a car and drink the good stuff. Those days were gone now.

Buying a bottle of "dehorn"
ON THIS PARTICULAR day, Ben wasn't drinking canned heat. He was on his way to the Pioneer Drugstore to pick up a half a pint or so of denatured alcohol — known to the initiated as "dehorn." Dehorn was industrial grain alcohol cut with a tiny quantity of toxic methanol, or wood alcohol, and sometimes some formaldehyde as well. The idea was that because it was unfit to drink, it would not qualify for the steep tax levied on distilled booze. (Prohibition had ended the previous year.)
Bottles of "dehorn" bore prominent labels that read "POISON," reflecting the fact that wood alcohol is lethal stuff. A small amount — a tablespoon or two — will make you miserably sick. A little more of it — a third of a cup or so — causes permanent blindness, something a few thirsty moonshine drinkers have learned the hard way over the years after sampling the first runnings (the "heads") from large-capacity stills.
But more than half a cup of pure wood alcohol causes one of the most miserable, agonizing, inexorable deaths known to 1930s medicine. The wood alcohol breaks down into formic acid, which spreads throughout the body and stops cell respiration. The victim, through an hours-long process, turns blue, suffers serial organ failures and finally slips into a merciful coma and dies. And in 1934, there was very little that could be done to stop that train once it had left the station.
So, yes, "dehorn" was poison. But what impecunious derelicts like Ben knew was that there wasn't enough poison in it to seriously hurt even the thirstiest man. For even the worst dehorn, at 5 percent wood alcohol by volume, you'd have to soak up the alcohol equivalent of about three "fifths" of 80-proof whiskey to get a big enough dose of wood alcohol to reach truly toxic levels.
So if you were willing to be miserably sick the next morning, you could drink it. You could drink a lot of it. Enough to get even a really experienced drinker like Ben Votruba drunk.
That meant that many of the vagrants living under bridges and in North End flophouses during the Depression, desperate for a drink but strapped for cash, were eager to buy the stuff. And a certain class of drugstores soon came forward to meet this demand.

[EDITOR'S NOTE: In "reader view" some phone browsers truncate the story here, algorithmically "assuming" that the second column is advertising. (Most browsers do not recognize this page as mobile-device-friendly; it is designed to be browsed on any device without reflowing, by taking advantage of the "double-tap-to-zoom" function.) If the story ends here on your device, you may have to exit "reader view" (sometimes labeled "Make This Page Mobile Friendly Mode") to continue reading. We apologize for the inconvenience.]