Audio version: Download MP3 or use controls below:
Your browser does not support the audio element.
By Finn J.D. John
January 19, 2014
THE PORPOISE WAS one ugly boat in 1992 when the guys from Portland first laid eyes on it.
It was a massive, weatherbeaten old hulk, 78 feet long and 20 feet wide, wallowing by the dock on Treasure Island in the Alameda estuary of San Francisco Bay. Some time earlier, a storm had sunk it in the bay; luckily, it had only been in a few feet of water, and easily refloated, but now it lay low in the water, its bilges heavily laden with silt and gravel and water that had seeped in where the hull had been patched. The electrical system was ruined, the engines were frozen, and after 35 years in the sun and rain, it looked awful.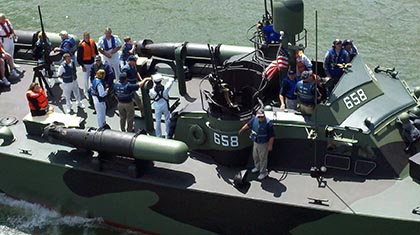 To the Portlanders, though, the Porpoise was not ugly. It could never be ugly. To them, it looked like their youth. It looked like the powerful, reliable, blinding-fast boats they'd gone to war on, fifty years before, when they were young and brave and wearing the uniform of the United States Navy.
The Porpoise was an old PT boat. Specifically, it was the PT-658 — the only World War II-era PT boat still floating. There were four or five others scattered around the country, in museums and up on blocks here and there, but the vast majority of the hundreds of PT boats built for World War II ended up dragged up on beaches and burned at the end of the war. PT boats were only really useful for a navy at war. Their wooden hulls required too much maintenance, and their three massive V12 engines burned far too much gasoline (the equivalent of 0.1 miles per gallon at full throttle) for peacetime use.
Built late in the war, PT-658 had never gone into battle, which is why it was available in 1958 for Earl C. Brown of Oakland to buy as surplus. One imagines him having a thundering good time roaring around San Francisco Bay on his very own PT boat for a few years, burning gasoline by the ton; but eventually the big gunboat ended up parked at the dock, and there it sat for 30 years, looking increasingly weatherbeaten and unloved.
When Earl died, his son Orlando inherited the old warrior, and started looking for someone to give it to — someone who would restore it rather than just scrapping it out. And he soon found that someone — or, rather, those someones: a group of 18 former PT boat crew members from the Portland area.

The gift
WHAT FOLLOWED WAS a massive coming-together of Oregon people and businesses pitching in to save the historic hulk. Orlando Brown happily handed over the keys to a new nonprofit organization: "Save the PT Boat Inc." In a complicated and lengthy process involving the donated services of Sause Bros. Ocean Towing of Coos Bay, Foss Towing Co. of Seattle, the Washington and Oregon National Guards, the U.S. Army Corps of Engineers and others, the old warhorse was hauled up the West Coast to Portland. There, cradled on a barge moored in Swan Island Lagoon, it became the focus of a ten-year-long restoration effort.
Dozens of volunteers spent thousands of hours bringing the PT-658 back from the near-dead. There was plenty to do. The hull was badly rotted, and many parts of it had to be entirely replaced.
There were three massive, ancient Packard engines — each one displacing 2,490 cubic inches, five times bigger than the largest Cadillac V-8 automobile engine — that had to be rebuilt. And there was an entire very-complex electrical system that had to be rebuilt — twice, as it turned out, after an electrical fire in 2003.

[EDITOR'S NOTE: In "reader view" some phone browsers truncate the story here, algorithmically "assuming" that the second column is advertising. (Most browsers do not recognize this page as mobile-device-friendly; it is designed to be browsed on any device without reflowing, by taking advantage of the "double-tap-to-zoom" function.) If the story ends here on your device, you may have to exit "reader view" (sometimes labeled "Make This Page Mobile Friendly Mode") to continue reading. We apologize for the inconvenience.]