Audio version: Download MP3 or use controls below:
Your browser does not support the audio element.
By Finn J.D. John
October 13, 2013
ON ANY LIST of nationally famous Oregonians, there are a few names you probably won't see.
For example: Bozo the Clown ... Goofy, the original hayseed hick from early Disney cartoons ... Bluto, Popeye's nemesis ... Grumpy the Dwarf, on "Snow White" ... comedian Jack Benny's imaginary Maxwell motorcar ... and the list goes on.
These legendary characters are all the creations of the same gifted Oregon show-business pioneer: Vance "Pinto" Colvig.
Vance Colvig was born in 1892 in Jacksonville, the youngest son of William and Adelaide Colvig; William was a prominent Jackson County attorney. He acquired the nickname "Pinto," a reference to the plethora of freckles his face was painted with when he was young.
Very early in life, the young Vance showed remarkable comic instincts, along with musical and artistic talents. Efforts to teach the young lad to play the clarinet were crowned with great success — but more importantly, they succeeded in giving him a much-loved and very squeaky prop to clown around with.
When his father took him to the Lewis and Clark Centennial Exposition in Portland in 1905, the 12-year-old Pinto brought his clarinet and used it to get himself hired in the "House of Mirth." While his father browsed the exhibits and admired the proud presentations of the young state, Pinto spent the entire time clowning with his clarinet, his eyes crossed and his face painted white.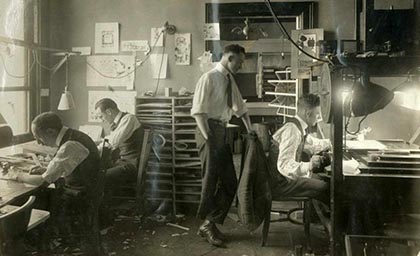 Despite a somewhat checkered academic career in Jacksonville and later Medford, Pinto moved to Corvallis to attend Oregon Agricultural College, as Oregon State University was then called. But by this time his self-taught drawing skills had advanced to the point of being really quite good. His cartoons became a popular item in the OAC Barometer newspaper and in the yearbook.
He also played in the OAC band — clarinet, of course. All kidding aside, anyone who's ever picked up a clarinet knows that you cannot use one to make funny noises (as opposed to horrible ones) unless you know how to actually play it.
Pinto soon became famous on campus for two things: His remarkable skills as an artist, and his lack of attention to his studies.
"A cartoonist is just a clown with a pencil," he once famously said. And so for the entire school year, he would clown with a pen (when his professors would have preferred that he use it to write papers) and when summer came, he would skip town to clown in person, with a circus or a Vaudeville show. In Vaudeville, his schtick was a "chalk-talk" in which he'd perform an improv monologue while rapidly sketching illustrations to go with it — a kind of an on-the-fly D.I.Y. Powerpoint show.
Finally, in 1913, he left OAC and signed with the Pantages Vaudeville circuit — the chain of theaters started by the ex-fiance of another legendary Oregonian, "Klondike Kate" Rockwell — to try to turn his "chalk talks" into a career.
It must not have gone particularly well, because the next year he was back in Oregon, and he soon landed his first job as a newspaper cartoonist — at the Nevada Rockroller. Now, finally, financial stability slowly started to coalesce around him, and his life started to develop a pattern: He'd join a circus, travel and act as a clarinet-squeaking clown until his money ran out, and then he'd find a job at some newspaper drawing cartoons for a while, get back on his feet and then do it again. Pinto loved circus work.

[EDITOR'S NOTE: In "reader view" some phone browsers truncate the story here, algorithmically "assuming" that the second column is advertising. (Most browsers do not recognize this page as mobile-device-friendly; it is designed to be browsed on any device without reflowing, by taking advantage of the "double-tap-to-zoom" function.) If the story ends here on your device, you may have to exit "reader view" (sometimes labeled "Make This Page Mobile Friendly Mode") to continue reading. We apologize for the inconvenience.]