Audio version: Download MP3 or use controls below:
Your browser does not support the audio element.
By Finn J.D. John
July 28, 2013
IF YOU WERE a fan of the classic ABC television sitcom "Happy Days," you know The Fonz had a special relationship with two particular machines: His trusty '49 Triumph motorcycle, and the pinball machine in Al's diner.
But it may surprise you to know that when Fonzie was playing that pinball machine, in 1950s Milwaukee, Wisc., he was breaking the law — and so was Al, by having the machine in his restaurant.
It's a bit hard for younger Oregonians to believe, but just a few dozen years ago pinball was illegal in most large American cities — including Portland.
When coin-op pinball was first developed, it was mostly a game of chance, not skill. Early machines didn't even have flippers, so there was no way for the player to affect the game's outcome.
But even after controls were added in the late 1940s, authorities still looked at a pinball machine as a straight-up low-stakes slot machine with some extra gewgaws attached to it to fool players into thinking it was innocuous.
They may have been right about that — at least, in some cases. But after 1949, the illegal status of pinball was going to have some profound effects on Oregon's underworld, especially in and around Portland. It would set the stage for a semi-comical battle between two of the Beaver State's scuzziest racketeers.

Where pinball came from
GAMES LIKE PINBALL had been around since at least the 1700s, but the coin-operated game was developed in the early 1930s, and by the end of the Great Depression they were a familiar sight in bars and malt shops pretty much everywhere.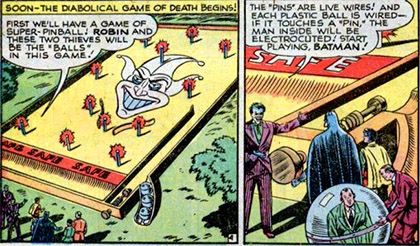 But slot machines of the "one-armed bandit" type were getting to be a familiar sight in bars and malt shops, too. And as city authorities started cracking down on these in the 1940s, they also took a look at the pinball games.
To be fair, pinball was mostly luck-based at first. That made it great for gambling operators, since it provided protection against some wizardly player coming to the table and using his or her mad skills to break the bank. So a number of bars had started letting patrons place bets and cash in extra games that they might win.
They'd quit doing that by the late 1940s, as improvements to the games had dramatically increased the amount of skill that was involved in the game and decreased the role of luck. But by then it was too late. The public-relations war had already been lost.
So in '49, when the city of Portland outlawed the silver balls, pinball's reputation was dark and sordid — and alluring. Authorities considered them "gateway machines" used by wicked, scheming men to lure innocent youths into the underworld of one-armed bandits, covert blackjack tables and other underworld wickedness. Rebellious youths, attracted by the forbidden-fruit effect, considered them great fun.
All of which meant that by the mid-1950s — the beginning of pinball's glory days — pinball in the Portland area was strictly an outlaw enterprise. Games were supplied by criminal syndicates, sometimes in collaboration with corrupt local officials. And when those syndicates started fighting for market share, things could get pretty exciting.

The pinball wars
THE PINBALL WARS in the north Willamette Valley mostly centered around two racketeers, who supplied the machines that restaurants and bars used. There was Stan Terry, an old bootlegger whose pinball-and-slots syndicate covered mostly establishments south of Portland, in the Milwaukie area; and "Big Jim" Elkins, the self-styled vice boss of Portland itself.
The two of them, in a nutshell, coveted one another's rackets. And they were both the kind of guys who go after what they want.
They started out in the early 1950s with surprise raids. Elkins, with five or six heavily armed goons, would barge into a bar with Terry's machines in it, take all the money and as many of the machines as they could haul and disappear into the night. Then Terry would respond in kind. Apparently nobody got hurt in any of these tit-for-tat raids, but then again, they weren't getting anywhere either.

[EDITOR'S NOTE: In "reader view" some phone browsers truncate the story here, algorithmically "assuming" that the second column is advertising. (Most browsers do not recognize this page as mobile-device-friendly; it is designed to be browsed on any device without reflowing, by taking advantage of the "double-tap-to-zoom" function.) If the story ends here on your device, you may have to exit "reader view" (sometimes labeled "Make This Page Mobile Friendly Mode") to continue reading. We apologize for the inconvenience.]