— APRIL 2020 —
Corvallis/Toledo railroad tycoon's war record: Robbery, piracy, hijacking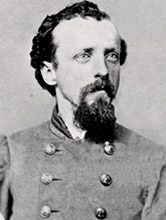 Corvallis/Toledo railroad tycoon T. Edgenton Hogg (pronounced "Hoag") was always a little reticent about his past. Especially the Civil War part.
To some extent, that was understandable. "Colonel" Hogg had fought with the Confederacy in the Civil War. His side had lost, so, sure — better not to talk about it, right?
The rumor mill wasn't nearly as reticent as Hogg was, of course. Hogg's status as an ex-Rebel, and the fact that his railroad enterprise put him at odds with some of the powerful Portland businessmen who were writing Oregon's official history, resulted in some very sketchy rumors finding their way into the historical record — such as the one that claimed he and his crew had been captured while trying to raid opium ships. Had his plans been successful, he certainly would have had a go at any ship, whether it carried opium or not; but as it happened, he never had the chance.
Nevertheless, the real story is so much more bonkers than that, that one wonders why the rumor-passers even bothered with making things up.
The rest of this story will be posted on May 9, 2020; but you can probably find it with a Google search on the Website of a participating newspaper!