— MAY 2020 —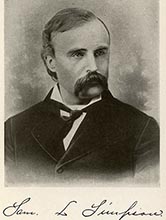 The "lost cabin gold mine" is a certifiable Western trope. If every ounce of legendary gold buried in an old log cabin became real and hit the banks at the same time, it would probably crash the international markets.
They make for fantastic stories, though. And often the gold isn't the only thing being hidden. Plus, of course, the fact that they might – just might – be real adds a distinctive spice to them.
One of the most interesting and colorful Lost Cabin Gold Mine stories is the one that supposedly took place in the hills south of Jacksonville in 1853. In this case, it's not a mine that's been lost – it's a vault: a small stone-lined crypt stuffed with millions of dollars' worth of freshly dug gold, and guarded by whatever remains of the skeletons of two long-dead men.
We have this story courtesy of poet-journalist-raconteur Sam Simpson, who was basically the Stewart Holbrook of the 1800s. As would be expected from Sam (or Stewart, for that matter!) it's hardly factually reliable … but it is a humdinger of a tale.
The rest of this story is under embargo for two months, during which participating newspapers, news services and radio stations have exclusive rights to it; then, on July 10, 2020, it will appear in this space!

Thanks for your patience, and thanks for supporting your community newspapers and radio stations!