Vaudeville's famous "Klondike Kate" became an Oregon legend
After injuries to her knee, ankle and heart, she needed to get away from show business and from an ex-boyfriend. So she retreated to the high desert near Brothers, and became a homesteader ... and looked fabulous doing it.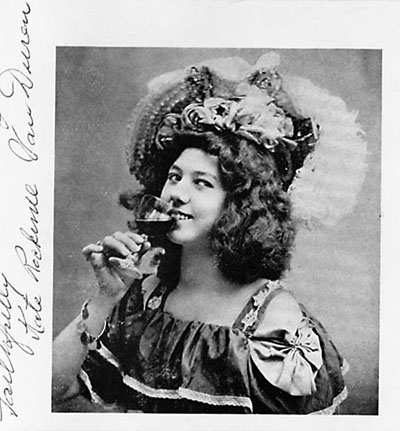 A circa-1900 souvenir portrait of "Klondike Kate" with a personal
message from Kate herself, written late in life after her marriage to
Bill Van Duren. (Image: Socotra House Publishing) [Larger image:
800 x 862 px]
By Finn J.D. John — August 14, 2011
The homesteaders who came to the Oregon high desert in the 1910s were a bit late to the party. All the really good land had been claimed years before, and all that was left was dusty rangeland. Most of these latecomers had a very tough time "proving up" their claims — that is, living on them for the required five years to claim title.
Among these dry-land homesteaders was a single woman by the name of Kathleen Eloise Rockwell, who was one of the most interesting characters in Central Oregon history.
Certainly it wasn't common for a woman to take on the task of proving up a 320-acre claim — not in 1914, two years after women had won the right to vote in Oregon.
But what was most interesting about Rockwell as a homesteader was her personal style. There may have been another homesteader somewhere in the American West who regularly wore Vaudeville ball gowns, big floral hats and dancing slippers while grubbing sagebrush out of the kitchen garden, but it doesn't seem likely.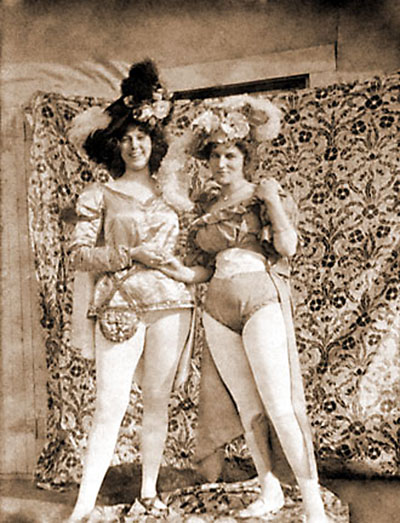 "Klondike Kate" and an unidentified colleague pose in their costumes for
a photo in Dawson, circa 1901. (Image: www.historicphotoarchive.com)
[Larger image at historicphotoarchive.net]
And Rockwell wasn't just any Vaudeville actress. She was the original "Klondike Kate," the most famous and beloved performer in Dawson during the great Yukon gold rush.
The glory days in Dawson
In Dawson, Klondike Kate was famous for her red-gold hair, charisma and happy-go-lucky style on stage. She was also a spectacular conversationalist. Miners in town for an evening would chuck nuggets up on the stage and she'd scoop them up; she'd drink with them afterward, sharing bottles of wine that cost $5 each and pouring her glass discreetly into a spittoon to avoid getting drunk, while they talked about their lives. She talked at least one miner out of committing suicide, talked several out of leaving their wives and even staked a few with some cash to keep them going after they'd been cleaned out by a professional gambler or robbed.
But that was long before, and now Rockwell was in Central Oregon to get away. In Dawson she'd been in her early 20s, but now she was pushing 40. She was still gorgeous, but like any athlete reaching middle age she was starting to be dogged with injuries — especially sprained ankles and twisted knees.
A studio portrait of "Klondike Kate" Rockwell in the Yukon, circa 1900.
(Image: www.historicphotoarchive.com) [Larger image on www.
historicphotoarchive.com]
On top of that, the love of her life, a fellow Vaudevillian named Alexander Pantages whom she had met and lived with in the Yukon, had jilted her in a particularly ugly way, secretly marrying another woman and telling her about it by letter four days later. He'd gone on to build a huge empire of Vaudeville theaters all over the West with his name on them, and every time she passed one of them it hurt. The only thing that made it feel better was performing, and she toured and performed frenetically for a few years, trying to lose herself in her work.
Finally, after an especially bad ankle sprain brought on a sort of nervous breakdown, a doctor told her bluntly that she'd have to quit, or she'd die.
Falling in love with the High Desert
Rockwell had visited Central Oregon before, and been deeply impressed by the beauty of the high desert. Now it seemed like just the place to get away from all things Vaudeville, to forget Pantages, to re-center herself. And she had friends there — although actually she had friends almost everywhere, among the former "sourdoughs" of the Yukon gold rush.
Two of Klondike Kate's calling cards from her days as
a Vaudeville actor and dancer in Dawson City.
(Images: www.historicphotoarchive.com) [No larger
images available]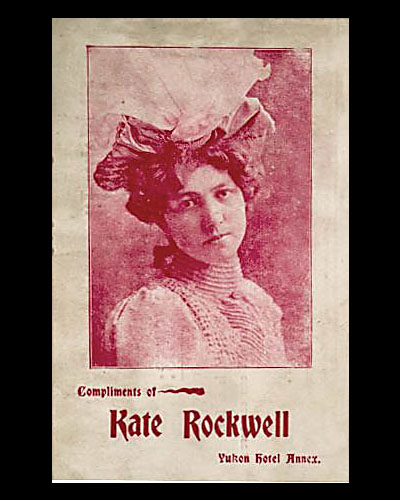 So with $3,500 in cash, $3,000 worth of jewelry and several large trunks full of dresses, gowns and hats, she moved onto a 320-acre patch near Brothers, Ore.
Homesteading chores done in style
She did almost everything dressed as if for a show. Folks would see her walking into Brothers in a dusty but fabulous (and fabulously expensive) evening gown about once a week.
She joked about the odd footprints she left while doing chores around the place. "Those holes are not the tracks of prehistoric bobcats," she once said, according to Ellis Lucia's account in his book about her. "I made 'em with my dancing slippers."
She also became an avid rockhound, one of Central Oregon's first ever. She fell in love and married a local man, Floyd Warner.
Rockwell beat the odds and became one of only a tiny handful of dry-land homesteaders to prove up a claim that didn't include a water hole. But it still didn't make sense to stay, especially for a social creature like Klondike Kate. She and Floyd sold out soon after getting title.
The one-woman fire department auxiliary of Bend
The marriage didn't last too long. By the early 1920s Rockwell was single again, and living in Bend. There, she became something of a municipal celebrity. Her home was a half block from the fire station, and she became a one-woman fire auxiliary, bringing hot coffee to the boys during fire calls.
She was a fund-raising dynamo, able to shake down almost any business or person for a contribution to a social cause; during the Great Depression she made gallons and gallons of soup to help out the hobos.
From "Miss Kitty" to "Aunt Kate"
She became known as "Aunt Kate." Less charitable voices in Bend labeled her "our destitute prostitute"; it's pretty unlikely she was either of these things, although there were a few times her finances came pretty close.
An old postcard image of the Pantages theater in Portland, a dozen or so
years after the turn of the century. Rockwell pined after Pantages for
years after he jilted her, and displays like this in all major Western cities
may have been part of the reason she chose to retreat from city life.
[Larger image: 1200 x 770 px]
In 1929 she was called to testify in a criminal prosecution of Alexander Pantages — her ex-boyfriend, remember — when he was accused of raping a 17-year-old girl. He was found guilty, though acquitted on retrial, and died in 1936. There are those who think the entire case was trumped up by a group of Yukon soudoughs angry about how he'd treated Kate.
She got married two more times, the first time to an old sourdough named Johnny Matson — who'd carried the torch for her since 1901, and still lived and prospected in the Yukon much of the time — and, after his death, to an old friend named Bill Van Duren. The two of them moved to Sweet Home, where, in 1957, she died.
(Sources: Lucia, Ellis. Klondike Kate: The Life and Legend of Kitty Rockwell. New York: Hastings, 1962; Lockwood, Brad. "Klondike Kate: 'Our Destitute Prostitute' or 'Aunt Kate,'" The (Bend) Source Weekly, July 21, 2010; Morgan, Lael. Good Time Girls of the Alaska-Yukon Gold Rush. Kenmore, Wash.: Epicenter, 1998)

TAGS: #PEOPLE: #rascals #mavericks #women #showmen #largerThanLife #charismatic #artists #famous :: # #cultureClash #liquor #showBiz #mining :: LOC: #deschutes :: #142