Space-age whalers help grow fur coats, put a man on the moon
Few people know a small whaling venture was launched in Astoria in 1961 — seeking whale oil for the space program and whale meat to feed to hungry minks.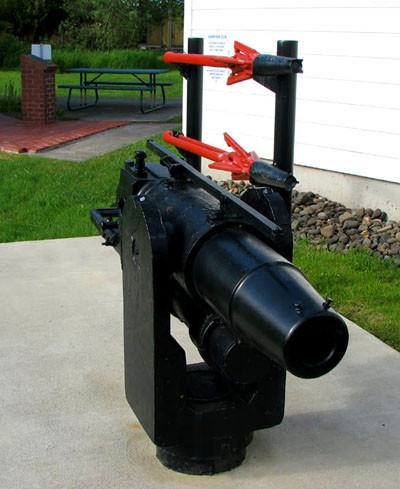 The harpoon gun from the whaling ship Tom and Al, a converted trawler
that operated out of Astoria from 1961 to 1963 hunting whales to feed to
mink, is on display at the Lighthouse Museum in Hammond. (Image:
Sheryl Todd, www.astoriaoregondailyphoto.blogspot.com) [More and
larger images]

By Finn J.D. John — August 8, 2011
Few people think of Astoria, Oregon, as a whaling city. The sinking of the whaling ship Maine on the Columbia River Bar in 1848 nipped plans for a fleet in the bud (here's that story), and that was the end of Astoria's whaling industry.
Except ...
Except for one small whaling venture launched there in 1961, that is.
Here's how that went down:
The space-age whalers
Local processing company Bio Products put the deal together. An enormous 90-mm harpoon gun, purchased from a Norwegian whaling operation, was mounted on a large fishing vessel called the Tom & Al, owned by brothers Frank and Eben Parker, and it was sent out to sea to chase sperm whales. The big creatures were then brought back to Astoria and butchered out.
The 1961 venture was more than a bit bizarre, looked at from a modern perspective. It was a coming-together of the need of Oregon mink growers for large volumes of cheap protein, and the need of the National Aeronautics and Space Administration for large volumes of whale oil.
Whale oil — for rocket ships?
According to Frank's son, Frank Parker Jr., a big part of the reason the Parkers were hunting whales was the space program. Whale oil is an unusual substance; it can withstand extreme hot and cold conditions without breaking down or gelling up. So as NASA ramped up its space-program efforts, it was buying whale oil —and paying plenty for it.
By 1963, though, new synthetic oils had been developed that got the job done, and the prices for whale oil plummeted. Whaling, even with modern implements, was a tough way to make a living even with NASA buying the oil. With that profitable customer out of the market, Bio Products cut the prices it was paying the Parkers. It started to not make as much sense to run the boat.
Then, apparently really feeling the pinch, Bio Products asked the Parkers to buy the harpoon gun.
"There was not enough profit for us to do so," Frank Jr. recalled. "They replaced the 90mm with a 60 mm and it turned out to not be effective. I remember being out with them on a trip and the harpoon bounced off the whale."
Bad P.R.? Not in 1961
A view of the King and Winge, the sister ship to the one that would
become Astoria's first and only whaling vessel, the Tom and Al. This
photo was taken in around 1916; the boat was one of the earliest to have
gasoline auxiliary power . The Tom and Al was 99 feet long. (Photo:
U.S. Coast and Geodetic Survey) [Larger image: 1200 x 766 px]
You might think the discontinuation also had something to do with public relations. From a modern perspective, the whole idea is just breathtakingly unlovely: killing an animal as big and charismatic as a whale to feed to something as nasty as a mink — with the ultimate goal of killing the mink and turning it into a fur coat for some super-rich person in Manhattan? Surely that plan was a stinker even 50 years ago, right?
Not so much, Frank Jr. says. Not in 1961.
"There was really no  negative feedback back then about hunting and killing whales," he said. "There was still a small shore-based operation near San Francisco. A flenser (whale butcher) was hired from there. It was definitely a different time and different attitude. Local schools brought bus loads of kids during the fall of '62 to view the operation. The University of Oregon and Oregon State sent researchers out with the boat and took samples at the shore site."
Today, of course, Astoria and other Oregon seaports do a brisk business taking folks out onto the ocean to see the whales run. The idea of taking a shot at one seems utterly ridiculous. But for anyone who wants to see how they did it back in the era of commercial whale hunting, the harpoon cannon is on display (it looks to be the 60-mm model, not the 90) — along with a couple of the harpoons it fired, with the exploding heads deactivated of course — in the town of Hammond, just seaward from Astoria and Warrenton.
It's hard to imagine what it must have been like to be a whale getting shot with one of those things.
(Sources: Personal recollections of Frank Parker Jr.; Webb, Robert Lloyd. On the Northwest: Commercial Whaling in the Pacific Northwest. Vancouver: UBC Press, 1988; Marshall, Don. Oregon Shipwrecks. Portland: Binford, 1984; The Daily Astorian, May 11 and 24, 2011; Todd, Sheryl, "Astoria Daily Photo" blog, www.astoriaoregondailyphoto.blogspot.com)

TAGS: #EVENTS: #cunningPlan :: # #cultureClash #marine #aviation :: LOC: #clatsop :: #141