Life of Sacagawea's mountain-man son a tantalizing mystery
Jean-Baptiste "Pomp" Charbonneau, the baby born to Sacagawea during the Lewis and Clark expedition, is one of the most important figures in Oregon history — but we know almost nothing of his life.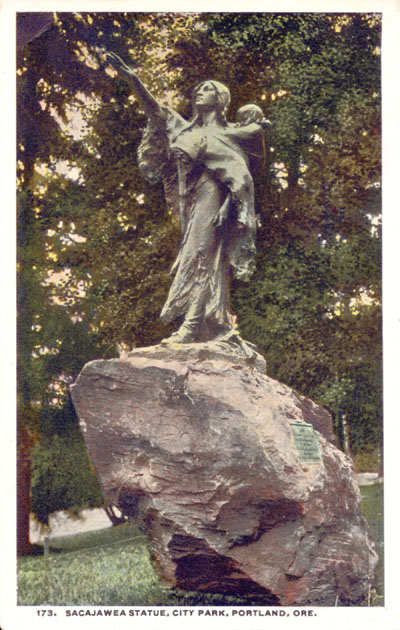 A hand-tinted postcard, circa 1915, depicting the statue of Sacagawea
and baby Baptiste, unveiled for the first time at the Lewis and Clark
Exposition in Portland in 1905. Today it still stands in Washington Park.
(Image: Chas. A. Lipschuetz Co., Portland)

By Finn J.D. John — July 25, 2011
Out of the entire Lewis and Clark expedition, only one member ever set foot in the Oregon territory again — and he's actually buried here.
That would be "Pomp" — Jean-Baptiste Charbonneau, the baby born to Sacagawea in a birch-bark canoe in Fort Mandan (now North Dakota).
A frontier Renaissance Man?
Charbonneau led a life of extremes, even by the standards of his time. Raised and educated in St. Louis, he traveled to Europe to spend six years in the court of a German duke, helped the Mormons invade Mexico, and became one of the most respected "mountain men" of the West. He spoke (no one really knows how well) at least half a dozen languages, probably more. A picture of him — or, rather, a picture of a baby that's supposed to be him — is on the ill-starred "golden dollar" coin released several years ago; it's the only picture of an infant ever to appear on American money. One of the scenic landmarks of the Rockies, Pompey's Pillar, is named after him.
The "golden dollar" coink, featuring a young Sacagawea and baby Pomp.
Of course, what the two actually looked like is anyone's guess.

Yet nobody today has any idea what he looked like. For such a literate fellow, he seems to have written almost nothing beyond official documents. He drifts through early American history like a frontier ghost, and half the stories you'll hear about his life have been made up to fill the more enticing holes in what we actually know.
A first-class education
Here's what we do know. After returning from the expedition, William Clark kinda-adopted the little guy and made sure he got as close to a first-class education as you could get in early-1800s St. Louis — which is better than you might think.
This was probably fair. Lewis might well have owed his life to Pomp. The baby served as an irrefutable demonstration of peaceful intentions with every Native American tribe the Corps of Discovery met on its path west. Without him and his mom in the canoe, it's entirely possible (and, actually, rather likely) that the entire Lewis and Clark expedition would have been annihilated in a bloody misunderstanding somewhere along the upper Missouri before ever getting near the West Coast, and consequently Oregon would have ended up as a colony of either Spain or England.
Travel to Europe
When Charbonneau was 18 years old, the lad met Duke Paul Wilhelm of Wuerttemberg, who was on a tour of the American wilderness. When the duke returned to Europe, the lad went with him. Nobody knows for sure if he went as a friend and companion or just as a servant — or even as an exotic-specimen exhibit; he was, after all, half Native American, and already very much a frontiersman.
In any case, when the duke returned six years later, so did Charbonneau. During his time in Europe, he'd picked up some Spanish and German to add to the English, French, Shoshone and Hidatsa he already had. He probably knew some other Indian languages too.
Back into the wild
At that point, Charbonneau plunged back into the wilderness. You might think that, fresh from a European court, his options in St. Louis and even back East would be pretty good. But throughout his life, the men he'd looked up to — his father and Clark — had been frontiersmen who'd won their stripes by going into the wilderness. Plus, he was half Indian; no matter where he went back east, he'd be an outsider. On the frontier, guys like Joe Meek, Jim Bridger and Kit Carson wouldn't judge him by his ethnic background — or, if they did, they'd count his Indian heritage as a good thing. Westward he went, again.
What followed was a life spent trapping beaver, shooting buffalo, exploring, negotiating and fighting with Native Americans and digging for gold. His skills in Spanish and several Indian languages made Charbonneau a major asset during the Mexican war, and after the hostilities ended he served for a time as a magistrate at the San Luis Rey Mission near San Diego.
Rushing for gold
When gold was discovered in northern California in 1848, Charbonneau found himself in perfect position — a local, managing the hotel in the town of Auburn. He spent 16 years working the diggings there. He also apparently fathered a child with a woman named Maria there — his second, actually; the first, with a German woman in Wuerttemburg, died in infancy. What happened to Maria is anybody's guess; beyond a birth record, the mission records are silent about her and her baby, about whom we don't even know a name.
Eventually, the California gold petered out and Charbonneau heard of a rich strike in western Montana. On his way there, he cut across the southwest corner of Oregon — and that's where, after getting soaked crossing the Owyhee River, he got pneumonia (or something similar, possibly alkali poisoning) and died.
The quest for Pomp's grave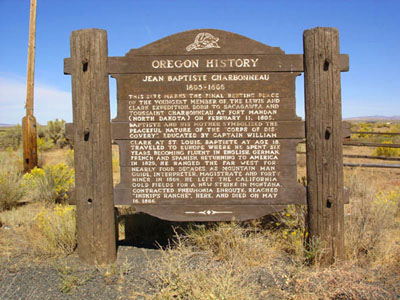 The sign denoting the site of Charbonneau's grave near Danner, Ore., a
national historic landmark. [Larger image: 800 x 600 px]

For decades his grave site was a mystery, too. But in the little high-desert community of Jordan Valley, a persistent bit of local folklore that held that Charbonneau was buried in one of six modest graves on a local ranch — a grave that was only known for sure to hold a "half-breed Indian."
Ranch owner Mike Hanley made it his mission to learn the truth, and with the help of some professional researchers, he got to it: The "half-breed Indian" was indeed the inimitable, multilingual mountain man himself.
Today the grave site is a national historic landmark. Its occupant is immortalized with a baby picture that probably looks nothing like him, on a coin that's become almost as obscure as the life story of the man himself.
History shows us just enough of Jean-Baptiste Charbonneau's story to know there's a great story there. Unfortunately, it looks like we'll never really know it. All we know for sure is that had it not been for Pomp, Oregon would be a totally different place today — maybe even part of an entirely different country.
(Sources: Furtwangler, Albert. "Sacagawea's Son," Oregon Historical Quarterly, winter 2001; Morris, Larry E. The Fate of the Corps. New Haven: Yale Press, 2004; Friedman, Ralph. The Other Side of Oregon. Caldwell, Idaho: Caxton, 1993)

TAGS: #PEOPLE: #doers #mavericks #tough :: # #cultureClash #famous #misunderstood #whodaThunk #mystery :: LOC: #malheur :: #138