Oregon governor to United States president: Drop dead
Governor Sylvester Pennoyer, an irascible populist and an unapologetic racist, was by far the most colorful chief executive the Beaver State has ever had; he especially relished feuding with sitting presidents in Washington, D.C.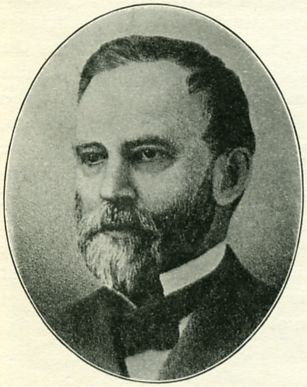 Former Oregon governor Sylvester Pennoyer.
By Finn J.D. John — August 1, 2010
If there were a category in the Guinness Book of World Records for the state with the crankiest former governor, Oregon would surely hold the title.
The state would have earned the record in 1886, when it elected Sylvester Pennoyer. And Pennoyer would have clinched it seven years later with a telegram he shot off to the President of the United States of America telling him, in essence, to mind his own *@#! business.
"MYOB, Mr. President."
His precise words: "Washington: I will attend to my business. Let the president attend to his. -- Sylvester Pennoyer, governor of Oregon."
The telegram was in response to a note from the president, Grover Cleveland, urging western governors to take steps to make sure no Chinese people got hurt in riots or demonstrations following the renewal of the Chinese Exclusion Act. The president had sent the same telegram to the governors of Idaho and California and gotten very different replies. (Washington wasn't a state yet.)
A pro-worker, anti-Chinese, pro-slavery governor ...
But then, Pennoyer was no friend of the Chinese. Or any other ethnic minority either, for that matter. In fact, he owed his governorship to an incident in 1886 in which he and a mob of workers "crashed" an outdoor meeting being held by the mayor of Portland and turned it into a loud, rowdy anti-Chinese demonstration. He was also – 25 years after the Civil War – an advocate of slavery.

This early-1900s postcard shows the old state capitol building, which
was built in 1876 and destroyed by fire in 1935. This was the capitol of
Pennoyer's day. Note the cannon on the front lawn; this field piece was
very likely the same cannon Pennoyer and the state Democratic Party
feuded over.
He was also an advocate for workers' rights, which might have seemed odd; he was a lumber baron who regularly wore very formal suits with swallowtail coats and carried himself stiffly, like an aristocrat. But shortly after he took office, Oregon became the first state in the union to declare Labor Day a holiday. He also refused to call out the state militia after railroad workers in Albany formed an angry mob in response to their employers' refusal to pay them. If they got their paychecks and rioted anyway, he told the railroad managers, he'd call out the militia – but otherwise, he'd let nature take its course.
... with a very big mouth
What he was most famous for, though, was snubbing presidents. In addition to the famous telegram, his exploits included:
Declaring a different date for Thanksgiving in Oregon after then-President Cleveland set one for the nation, in 1894. Oregonians apparently had two Thanksgivings that year.

Refusing to leave Salem to welcome the president of the United States (Cleveland's predecessor, Benjamin Harrison) when the nation's leader arrived in Oregon on a railroad tour in 1891. "I have no business to go to pay homage to him," Pennoyer told a newspaper reporter at the time. "On the contrary, when he visits Oregon, he should rather pay his respects to me." Pennoyer subsequently relented and agreed to leave the capitol building to meet Harrison at the Salem train depot, where he kept the commander-in-chief and a large crowd of onlookers waiting in the rain and arrived 10 minutes late.

Refusing to let the Oregon Democratic Party use the official state cannon to fire a salute in celebration of Cleveland's inauguration in 1893. (Pennoyer had just left the Democratic Party to become the second Populist Party governor in history.) "No permission will be given to use state cannon for firing a salute over the inauguration of a Wall Street plutocrat as president of the United States," he said, and locked the thing up under armed guard. The Democrats won this standoff by their wits: They forged a court order commanding the sheriff to confiscate the cannon as collateral for the payment of an imaginary unpaid bill for blacksmith work – then got it from him and fired the salute.

Officially calling for the impeachment of Cleveland in 1893.
"Sylpester Annoyer"
Pennoyer's cantankerousness earned him the nickname "Sylpester Annoyer" from pioneer judge Matthew Deady. He became a nemesis to Harvey Scott, editor of the Portland Oregonian, who took to referring to him in editorials as "His Eccentricity." For a time there was talk about running him on a presidential ticket, but such talk died instantly after the cannon incident.
In Oregon, though, Pennoyer was still hugely popular. After his two terms as governor, he went on to become mayor of Portland.
He set the tone for Oregon politics for a century
And Pennoyer set the tone – in ways both good and bad – for politics in Oregon for decades. In the early 1900s, Oregon would become known as a land of crotchety mavericks, proudly libertarian and frankly populist, friendly to workers so long as they were of northern-European descent, with a sometimes slippery interpretation of the rule of law. You'll still hear echoes of that spirit in Salem to this day.
(Sources: Horner, John B. Oregon: Her History, Her Great Men, Her Literature. Corvallis: Gazette-Times, 1919; Pintarch, Dick. "His Eccentricity: Gov. Sylvester Pennoyer," Great Moments in Oregon History. Portland: New Oregon Pub., 1987; www.ohs.org; "What Pennoyer Is," The New York Times, May 11, 1891.)
-30-