Andy Warhol pulls a fast one on Oregon art students
One of Warhol's cronies powders his hair, dons Ray-Bans and impersonates his pal on the lecture circuit at universities in Oregon, Utah and Montana; hilarity ensues — for some, at least.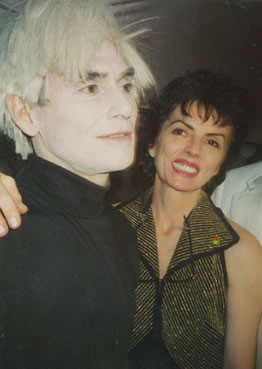 (Photo courtesy Audart Gallery) Allen Midgette,
with Audrey Regan of New York's Audart
Gallery, many years after Midgette impersonated
Andy Warhol in a series of lectures in Oregon.
By Finn J.D. John — Feb. 1, 2009
It was Oct. 5, 1967, and students were spilling out the doors of the biggest room in the University of Oregon's Erb Memorial Union.
At the front of the room, a man stood with a cigarette in one hand, Ray-Bans on, a shock of white-blonde hair. The students had come to see Andy Warhol talk about his underground films. Warhol was booked for a tour of Western colleges, including the University of Utah, Montana State, Linfield College in McMinnville and the U of O.
But they didn't get Andy. The students didn't know it, but the man at the front of the packed ballroom at the U of O was actually one of their own — a University of Oregon actor named Allen Midgette, one of Warhol's cronies at his "Factory" art loft in New York. Warhol, at the time, had never left the Eternal City.
A rocky reception at U of O
Some students grumbled about it afterward — "Warhol," they said, showed a boring "art film" and gave them answers that were either really, really deep or really, really stupid: "I don't know how to say what my meaning is. I guess it means to me that I film it, mostly." "That (why we make films) is one of the big questions. Let's just say we do it to keep us off the streets." "All kinds of things — it changes all the time." (This last was in response to a student asking, "Sir, do you give a damn?" and about what. Students and colleagues of the late Journalism School professor Bill Winter will instantly recognize this question's pedigree.)
The reception was less hostile at Linfield, where, according to Leland John, an art professor from Mt. Angel College who attended, "Warhol" responded to most questions by simply giggling.
Was it really the Prince of Pop?
When "Warhol" left, rumors started to circulate. They originated at the University of Utah, where "Warhol" started his speaking tour. The artist had been very insistent on not being photographed by anyone on his tour. But a student journalist had sneaked a photo of him, shot from the waist with one of the twin-lens Rolleiflex cameras that were then the hottest news cameras around.
Professors who had met the real Warhol and smelled a rat compared the pictures and concluded they were two different people. But by the time they saw the picture, "Warhol" was long gone from Utah, and by the time they started talking about what they thought of it, he'd already done his University of Oregon performance.
Rumors of this conclusion of fraud reached Don Bishoff, then a reporter for the Eugene Register-Guard. Don, like a good reporter, went straight to the source to find out.
Calling Andy Warhol
"We had an aging hippie working on our copy desk, named Bill Thomas," Bishoff recalled later. "Somehow he had the number for the pay phone on the wall at The Factory. So I called the number and … Paul Morrissey answered it."
Morrissey, clearly taken by surprise, "hemmed and hawed" and then finally put Warhol on the line. After some head-scratching about how Bishoff could know it was the real Warhol this time, the "Peter Pan of pop art" confessed.
"He (Midgette) was better than I am," Warhol told Bishoff. "He was what the people expected. They liked him better than they would have liked me ...."
Well, all righty then.
"His explanation of how he sent the guy didn't make sense," recalled Bishoff. "I still think to this day he was pulling another Andy Warhol spoof — and proving a point that people wouldn't know the difference."
(Sources: Eugene Register-Guard and Oregon Daily Emerald archives; personal recollections of Don Bishoff and Leland John)